Nothing tops off the summer like sitting on the cement, in a skate park, in 100 degree heat, with kids swirling around you that are just learning how to skateboard. WHAT!? Well, ok,  I was just the one holding the camera…at least I wasn't wearing the $9,000 Oscar de la Renta  dress too, EEEK!
No sweat…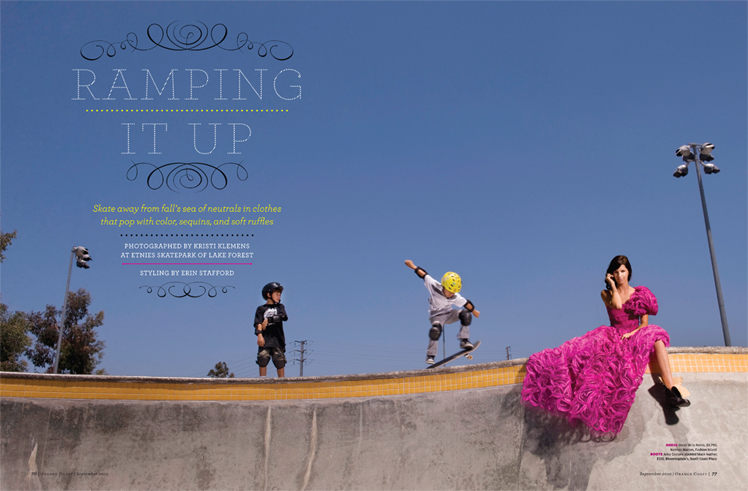 Hey brides!  Hairpieces are the new veil! Even if you are not a bride, everyone should know that accessories in the hair can be worn everyday to dress things up or even down. Don't be shy, flaunt your style & add a little love to your hair! 
Sequins is it!!! ROCK IT.
I LOVE doing fashion spreads for Orange Coast Magazine. It stretches my creativity on a whole different level than weddings do. I think this is why I try to make all my brides look like models, I have a secret passion to become a fashion photographer, ha! I thought this post could kick off the New Year right as we all are aiming to look goooooooooood!
Here's a few more images I loved from the shoot:
Shown above: The amazing Rachel May Jewelry!
I could not have done it without this awesome team:
Stylist: Erin Stafford
Hair: Denise Empey /Makeup: Brittany Schlittenhart
Models: Alexandria & Hollie, Models International
Photo Assistant: Efren Beltran
These images were in the past September, 2010 Issue, pages 76-83. Sorry so late on the post, hope you enjoyed it!!!